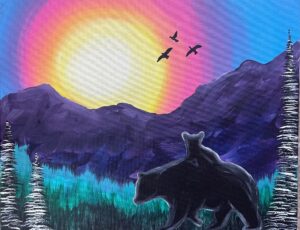 Saturday, August 26th from 6:00 PM to 8:30PM at The Elks in Riverton 
Come and paint with us! We'll be painting "Sunset Bears" Saturday, August 26th from 6:00PM to 8:30PM at the Elks in Riverton! We have stencils for the bears, birds, and mountains! Your $35 ticket includes: 2.5 hours of painting • 16 x 20 stretched canvas to take home • Your own easel to work on • Paint, brushes and aprons • Help from the artist so you can go home loving your new piece! • Great Music!

For Tickets Please Text or Call 630-567-1078, or Message Our Facebook Page
Our credit card processor is currently experiencing issues with our website host.